We practice sustainable farming methods and embrace the traditional wine making styles that produce soft, elegant and balanced wines. Our wines are produced in small lots and are currently available exclusively through the winery and our wine club. The art and science of wine making come together through our passion, which we hope you'll enjoy in each bottle. Come visit us, we'd love share a memory with you!
Upcoming Winery Events

Date: Jan 14, 2022
Time: 6:30
Cost: $100/pp
Details: Join us for a casual steak dinner hosted by John Viszlay.
We'll have delicious appetizers and traditional side dishes with grilled USDA Prime steak.
First Fridays
5-7 pm
Friday Night Cigars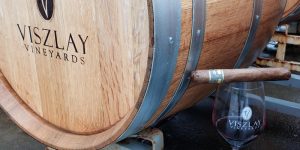 Join us the first Friday of the month during warm weather for a relaxing evening enjoying wine by the glass and
cigars on the patio. Cigar not provided. Please call for details.