UPCOMING EVENTS

Date: Jan 14, 2022
Time: 6:30
Cost: $100/pp
Details: Join us for a casual steak dinner hosted by John Viszlay.
We'll have delicious appetizers and traditional side dishes with grilled USDA Prime steak.
First Fridays
5-7 pm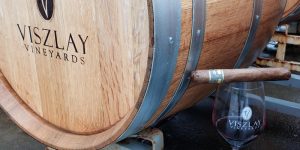 Join us the first Friday of the month during warm weather for a relaxing evening
enjoying wine by the glass and cigars on the patio.
Cigar not provided. Please call for details.
For event questions, or to RSVP to an event,
please contact: abby@viszlayvineyards.com or (707) 481-1514.