THE WINE CLUB
Let us share our favorites with you all year!
Here at Viszlay Vineyards we are proud to be a small, family-owned winery. We love making our wines, and have so much fun sharing them with you. We have a number of wine club options, from small to large, so you can find the one that works perfectly for you! Become a part of the family; join our club and have access to award-winning wines, exclusive member-only events, and great friendship throughout the year.
When you are "Face to Face", that's when you get the best deals! Members receive 10% to 30% discount on all wine and merchandise throughout the year. The more you buy, the bigger the savings! We ship wines to our Vis-a-Vis friends every 10 weeks, and our Dos-à-Dos friends every 6 months. Give us your preference of all red wine or mix of red & white wines at sign up. We try to get it as close as we can.
Wine Club Member Benefits:
Access to member only wines
Discount event tickets
Complimentary wine tastings
Year-round discounts on bottles
Wine club BBQ at the winery 2 times a year, June and January
Members can host a winemaker dinner or tasting at their home, club or business
Member only specials and sales
Customizable shipments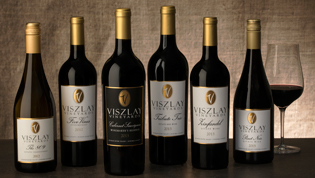 5 shipments per year


Vis-a-Vis Wine Club
Exclusive Cab Club
1 Case per year – Allocation Only
Viszlay Vineyards Cab Club is a totally new concept for us. Giving VERY limited access to outstanding Cabernet Sauvignon at special Pricing for our Cab Club members.
Members will receive 12 bottles of the latest release of Winemakers Reserve Cabernet Sauvignon, shipped in fall in time for the holidays.
Pricing on these bottles will represent a savings for our members of 30%, that's an average of $30 per bottle off compared to non-Members, if there is any wine left! If you join the Cab Club you're entitled to all the same perks as our level 3 wine club including:
20% off any additional wine orders

Complimentary one night stay at the guesthouse after 1 year

Exclusive members only events at the winery

Special public event pricing

And More (See full list above)
Additionally we have three ways to pay. Shipping is included for an easy transaction.
Lump sum payment:Members make one payment of $883.20* . Members are billed each year until canceled.
Half now/half when we ship:We know that dropping "big coin" on a case of wine can be challenging for some. So we wanted to present the option where members split the payment. Half when you join, half when we ship. Members make two payments of $441.60. After 2020, first half payments will be processed June 1. By choosing this option members commit to making both payments.
Monthly Payment:Enjoy the ease of monthly payments. Members make 12 payments of $73.60. Payments will be processed on the 1st of the month. By choosing this option members commit to making all 12 payments.
Shipments will take place on 10/15/2020
*Orders are subject to State sales tax where applicable.
Terms and Information:
*Prices do not include shipping charges and sales tax
A valid and current phone number & email address is required at the time of sign-up.
You must be 21 years of age to participate in this program.
Wine Club shipments can only be made to states that permit such shipments.
Where required, we will add appropriate state sales tax.
It is preferable to make shipments to a business address.
Address or credit card changes should be sent by fax, e-mail or snail mail to ensure timely shipments and to avoid an additional charge to redirect the shipment to a new (another) address.
Members are responsible for address changes—additional return shipping costs will be charged if no notification was received.
Membership commitment length is One Year. Any cancellations must be received within 14 days of scheduled shipping.  After one year you may cancel your membership, by fax, e-mail or snail mail.
An adult signature required upon delivery for all alcohol shipments.